The Parental Control is one of the best add-on feature to Windows 7. With increasing harmful content online and offline, like violent games, harmful software, vulgar websites and much more, the Parental Control of Windows 7 comes as a rescuer to parents who want to safeguard their children from harmful multimedia content.
To enable Parental Control for your children in Windows 7, follow the below steps:
1. Goto Start menu and click on Control Panel
2. Click on the User Accounts  and Family Safety in the Control Panel
3. Select Parental Controls. It gives you a list of user accounts.
4. Select the user account that your children is using
5. Enable the Parental Control by selecting On, enfore current settings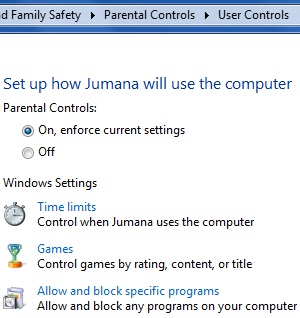 Under the Parental Control settings, you can set the time limits (how much time should your child spend on the computer), games filtration (allow only selected games depending on ratings),  and program selection (you can specifically choose which program to allow and disallow).
Setting up Parental Control in Windows 7 for your child will prove beneficial. It will also help you keep your child safe from unwanted and harmful computer content. Your child's computer usage will be entirely under your control.