With the advent of smartphones and tablets, many of us tend to read News on our Android, BlackBerry, Apple or Windows powered smart devices. It's easier and more convenient. It also keeps you updated while you're on the move. Listed below are few out of the ordinary apps which can keep you updated with News from around the world.
News 360
It's free and compatible with Android, BlackBerry PlayBook, iPad, iPhone and Windows Phone. It's available here.
News 360 neatly aggregates News from various sources over the Internet. They use in-house technologies like Entity Extraction, Dossier Generation, Fact Extraction, Clusterization, and Text Classification to grab and classify News from over 700,000+ diverse business entities around the world.  It offers you massive amount of News by focusing on the key headlines depending on your personal customization. The interface is highly professional which looks tidy even with such a big junk of News items on the page. News can be ordered and grouped based on their categories or sources.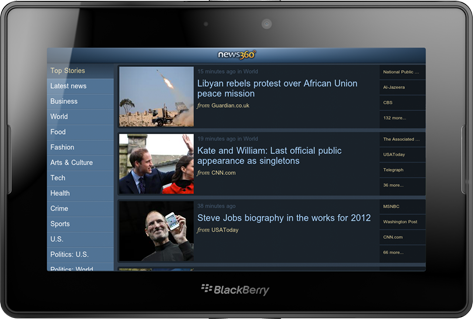 Zite
It's free and compatible only with iPad. It's available here.
Zite, available only for iPad, is a retro styled magazine based News app. The interface demonstrates clean, neat and a no-nonsense look with entire focus on the News content and no extra elements. It is highly customizable and you can select what category of contents should be shown on the front page. Social sharing icons only appear when the News article is opened, front page is kept clean. You can increase the font size for better readability or view it in Web mode. The magazine-styled-flipping-of-pages while reading is an appealing visual experience.
FLUD
It's free and compatible with Android and iPhone/iPad. It's available here.
FLUD fetches News from various sources over the Web. It even gets RSS Feeds from the URLs that you configure and also sign into your Google Reader account. The interface is clean and elegant with categories listed on the top for easy navigation. Front page is highly customizable and you can chose what all News items should be displayed. The text preview is accompanied with various visual elements to enhance reading experience. On opening any News article, the user can chose to view it in Text or Web mode. Any News article can instantly be shared via the social sharing buttons provided above the content.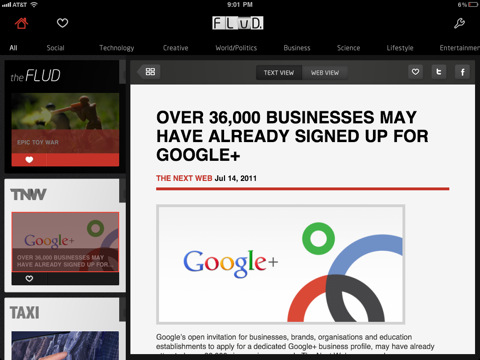 Which app do you use to read News on your smartphones and tablets or have you fallen in love with the above apps?