Music! Who doesn't love music? Everyone does. Music is an imperative ingredient to many of our lives. Nowadays, music is available via numerous medium – music stores, online stores, online downloads, and online streaming. At times, it becomes quite tedious to store all those stack of music DVDs or manage thousands of music files on your computer. It can be also difficult sometimes to purchase music online, especially for people without credit cards or any other mode of online payment. Pirated music is undeniably available online for free, but we strongly oppose it and recommend listening to legal music sources only.
Online services to stream and listen to music are the most feasible alternatives when you do not want to entrap yourself with all the above concerns. Online music streaming is feasible because they offer millions of tracks (almost every track you can think of), does not require storage space and management, is very simple and available on many platforms and devices. Hence, we compiled a list of online services to stream and listen to music.
Live365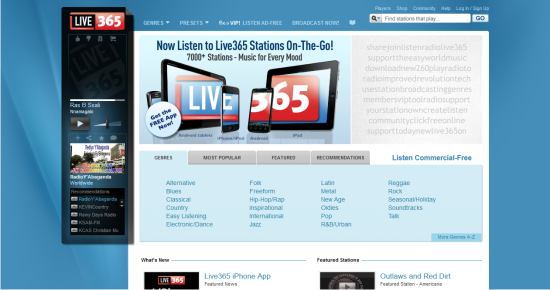 Live365 is available for almost all devices – PC, Android tablets, iPhone/iPod, Android phones, and iPad. They stream music to over 150 countries around the globe with 260+ genres. It's free for those accounts which are with ads, but is only available to PC version. To gain access without ads and on other devices, you will need VIP account. Streaming can be via desktop player, mobile player, web widgets, devices, or broadcast software.
SHOUTCast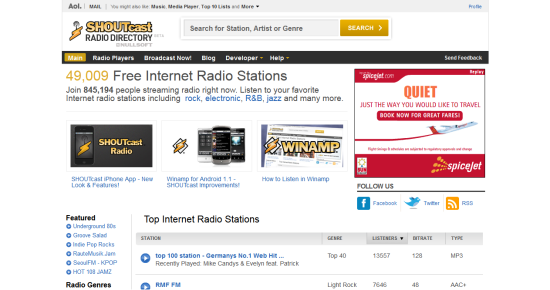 SHOUTCast has around 50K free internet radio stations. It's available on PC via web browser for free. You can also download a toolbar for Windows and Mac. The iPhone app is pretty neat to stream on your phone. It also has the option to listen to music via Winamp player on your PC or phone. The best part of this service is that it does not require signing in to listen to music.
TuneIn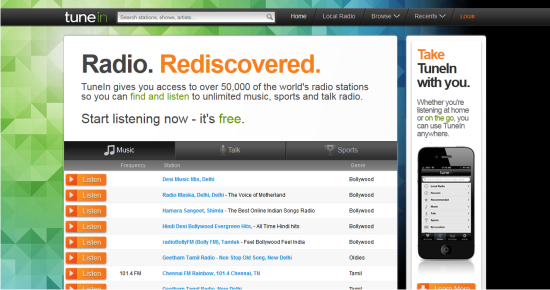 TuneIn, similar to many others, is available across almost every device – PC, Android, iPhone, iPod, iPad, BlackBerry, Symbian, Bada, and Windows Phone. It's absolutely free for the PC version, i.e. via a web browser. It offers around 50K radio stations. TuneIn app comes in two versions; TuneIn Radio and TuneIn Radio Pro. Both offer similar features except that the Pro version can record, pause, rewind what you are listening for one-time fee.
Last.fm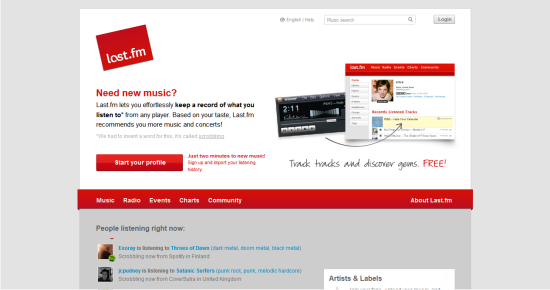 Unlike others, Last.fm would require paid subscription after 30 songs trial, even on PC version. It is similar for Android and iPhone version too. The monthly subscription charge is around $3 USD only. On listening to a specific track or genre, Last.fm will also recommend you related tracks from other genres to offer you mixture.
AccuRadio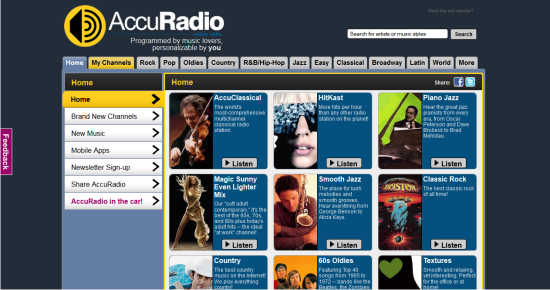 AccuRadio is entirely a free online music service. You neither need to signup nor pay any charges to stream music from AccuRadio. It is also available for Android, iOS and WebOS. The app interface is very elegant, compelling to the overall music realm.
GrooveShark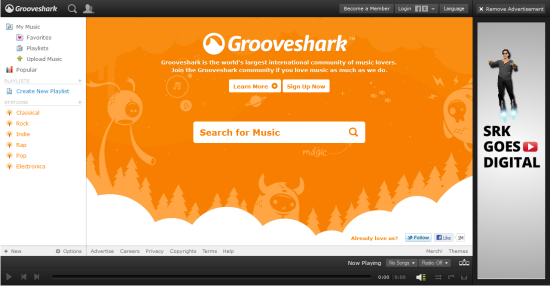 GrooveShark is free for the PC version (web browser based streaming) and paid for other devices like Android, iOS, etc. The free version is ad supported. GrooveShark Plus, which is offered for $6/month, is entirely ads free.
Deezer
Deezer again is free for PC version but comes in Premium and Premium + Subscription model too. It hosts around 6.5 million music tracks for music lovers.
Conclusion
Every service has its good and bad points. I recommend you try out all the above services, play around with their features or offerings and finally decide on which is best suited as per your requirement.
Which service do you use the most? Or do you know any other online service that offers streaming of music?