Netbooks have become the coolest portable computers used for browsing the Internet, chatting, downloading, media playback, etc. A new purchase of netbook will usually come equipped with one of the Windows operating system – usually Windows XP Home Edition. But, many a times, a cheaper netbook may come equipped with Linux or no operating system at all. There have been few major developments in netbook operating systems recently with keeping the upcoming age of computing in mind – Cloud Computing. It's really not worth opting for an expensive netbook operating system for a cheaper netbook. Below are the 5 best & free netbook operating systems readily available for download and use.
Jolicloud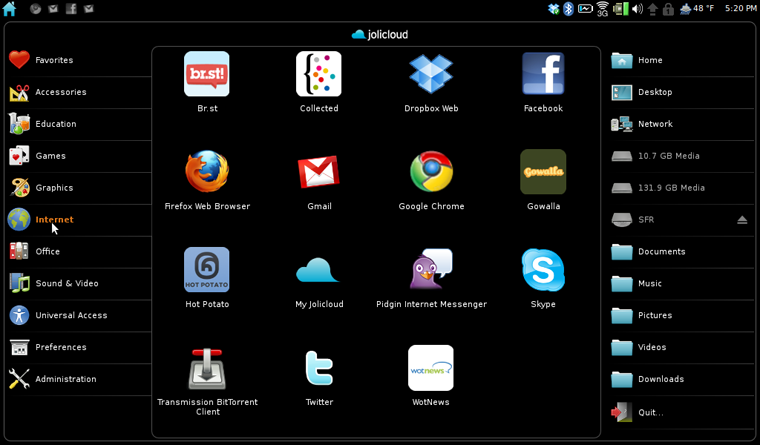 Jolicloud is definitely a good looking netbook operating system powered by Linux. It is a bit bulky in size at around 600 MB. The interface of Jolicloud looks sleek, elegant and attractive, with thin lines, dark background and glorious icons, on a netbook screen. Jolicloud can easily be executed from a flash drive or booted directly via a Live CD. The on-system performance is quite satisfactory with an insignificant wait in boot-up and interface loading. It is both – a desktop as well as cloud based operating system. Applications can be downloaded locally and installed as you do in Windows or Linux. There is also a bundle of web-based applications used for Facebook, Twitter, etc.
To conclude, Jolicloud is really a simple-to-use, interactive and performing netbook operating system, though the file storage is still local.
Ubuntu Netbook Remix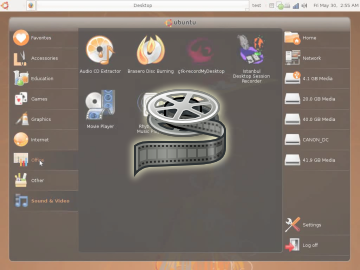 The Ubuntu Netbook Remix is basically a baby clone of the Ubuntu desktop version. The panels on the desktop and the layout are also similar. The default Ubuntu theme stays back in the netbook version. The installation procedures are also very simple. Once installed, there are abundant settings to play with which are entirely exposed to the end-user. This is formally a desktop based operating system. It stores all the files locally on the drive. However, on registering with Cloud One (Ubuntu's cloud storage service), you can synchronize the documents with the Ubuntu's cloud storage. This cloud control and management is simple to use and well integrated into the Ubuntu Netbook Remix.
Moblin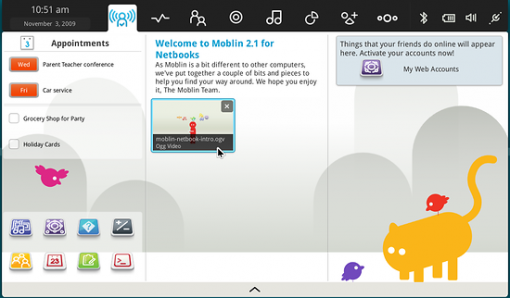 Moblin distribution was the foremost netbook operating system. It was a big hype at the start, but slowly took a backseat as other netbook distributions came into the market. Moblin is a simple OS but nowhere the likes of Linux. It displays a simple panel at the very top gives you direct access to configurations, settings, tools and connectivity preferences. Due the compact size of a netbook, the top Moblin panel auto-hides giving the user full screen to work on. The interface is easy-to-understand and user friendly. It also supports a wide range of netbooks. Installing Moblin via a flash drive is an easy process. Installation of various applications is also easy as you only have to click the install button (next to the required application) once connected to the Internet. It shows live real-time updates onto your dashboard from online accounts like Twitter. Overall, it's an enjoyable experience to work on Moblin.
gOS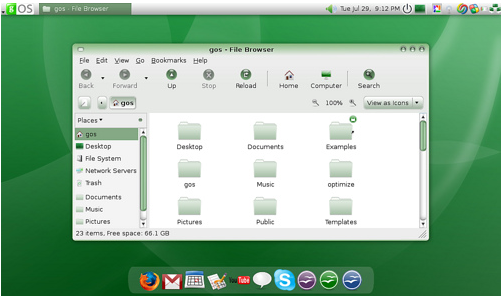 gOS throws more emphasis on web-based application than desktop applications. It is more of a cloud computing operating system than the rest. It resembles the looks of any standard Linux system. It displays taskbar at the bottom of the screen – a resemblance to OSX system. This taskbar docks many application startup icons into shelves. Due to more importance on web-based content, it is a good choice for users with high Internet bandwidth.
Xpud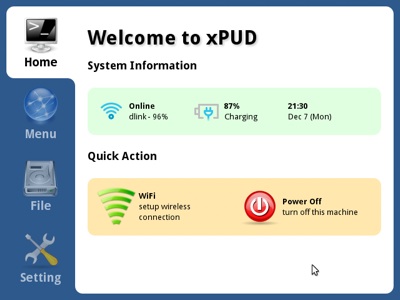 Xpud is a very light-weighted netbook operating system. The installable is of 64MB only. On installation, Xpud loads quickly. It displays four simple menus with large icons. The menus are properly bifurcated with easy navigation. The installable is bundled with very few programs due to its small size. Opening and managing multiple applications at a time could be bit of a hassle. It's not too web oriented and has a limited spectrum of web applications. It is a basic and minimalist operating system for those who want to use chats, browsing and streaming few online videos.
Conclusion
Xpud is the king of simplicity and minimalism, whereas Jolicloud and Moblin should be a choice for those who want to squeeze maximum out of their netbooks. Altogether, you should try all the netbook operating system yourself and decide the best choice for yourself.