As many of you Indian PayPal users must be knowing that RBI or the Indian Government have recently limited PayPal account usage. It's become mandatory to provide bank account details and PAN (Income Tax number) to continue receiving or withdrawing money.
PayPal has now provided Make Auto Withdrawal feature to their Indian users since they are no more allowed to keep any money within their account. It's become mandatory to transfer any PayPal money to their respective bank account immediately.
PayPal says:
Auto withdrawal is the process of automatically transferring your funds from your PayPal account into your bank account in India.
You can set any of your bank account as Auto Withdrawal. Your PayPal money will automatically be transferred to the set bank account as soon as it arrives in your PayPal. This feature does not include any extra fee charges. Irrespective of setting any account as Auto Withdrawal, you will still be able to withdraw money into other accounts manually.
To set a bank account to Auto Withdrawal
Log into your PayPal account. Navigate to My Account > Profile > Add/Edit Bank Account. Select the bank account and click Make Auto Withdrawal.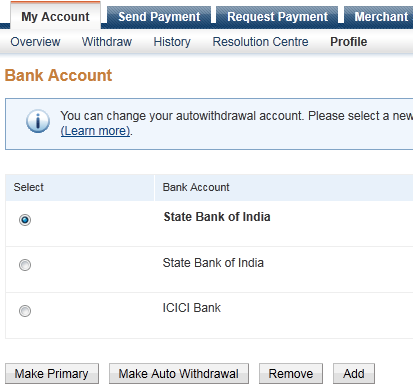 Once you click Make Auto Withdrawal, the status of the selected bank account will show Auto Withdrawal.