Aren't you fascinated by interesting tech gadgets? I think everyone is, including me. It's really fun to use and own geeky gadgets in our home and office. By geeky, I mean really innovative, creative, handy and fascinating gadgets like these: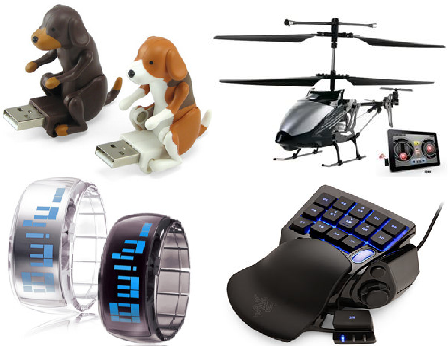 A look at the above picture definitely makes your desire strong to own them. For tech geeks like you, I thought of putting my efforts in digging the Web and consolidating few very interesting online stores that sell such geeky gadgets. It'd be easier for you to browse, choose and buy the best gadgets for your home or office.
ThinkGeek.com
ThinkGeek, which says Stuff for smart masses, is an impressive online gadgets store that offers  creative T-shirts/apparels, geeky toys, handy gadgets, smart home & office stationary, computer stuff, caffeine & edibles, electronics, geek for kids and tech books. Few most popular gadgets among their customers are Electronic Butterfly in a Jar, Whisky Stones, Titanium Spork, Caffeine Molecule Stainless Travel Mug, Green Laser Pointer and few more. They frequently keep Clearance Sale that should be watched to buy things at lower prices. They ship their products around the world with little shipping charges. I'd definitely suggest you to dig into their pile of wonderful products and discover miracles.
FocalPrice.com
FocalPrice, China's leading B2C e-Commerce export site, showcases more than 7,000 handy tech gadgets that could come in your day-to-day use and also make you look cool and geeky. Their product line has gadgets ranging from Apple accessories to Car accessories, Cell phones to Video games, and Cameras to Computers. Few of their most popular products include Drivers Gradient Glasses, Fix It Pro Clear Car Coat, Portable Stainless Steel LED Watch, Round Metal Case Hello Kitty and few more. They offer money back scheme in 90 days and free repairing within 180 days. They also provides worldwide free shipping via Airmail for orders valued above $20. I suggest you to checkout their cool products offered at low prices.
BudgetGadgets.com
BudgetGadgets is located in Shenzhen, China since 2003. As the name suggest, they offer useful tech gadgets at very affordable prices with free shipping worldwide, irrespective of order amount. Their product line includes Christmas & Holiday Gadgets, iPhone/iPad/iPod Accessories, Computers & Networking, Home & Garden, Sporting Goods, Toys & Hobbies and few others. They were given "2010 eBay Good Buyer Satisfaction PowerSeller Award" by eBay.
MiniInTheBox.com
MiniInTheBox, business leader in selling blue-ribbon consumer goods since 2006, offers incredible products at wholesale price and free shipping worldwide. Their site's homepage displays few very trendy and cool gadgets which are a must-own for tech geeks. They put up frequent sale offers with discounts as low as 90%. Few of their most popular products include Remote and Nunchuk Controller, Wireless DualShock 3 Controller for PS3, Faucet Light 2nd Generation, Telescope 6X Zoom Camera and many more. Start buying at a good price.
I hope you have fun buying these geeky gadgets and adoring your home and offices with them. I'm in love with the TRON Wall Crawling R/C Light Cycle from ThinkGeek. What gadgets do you love?