The programs that automatically run at start of your Windows operating system are the Windows Startup Programs. Multiple programs may pop-up or execute in the background at the startup. These pop-ups and background executions may delay your startup time and make the computer very slow. It is always better to timely manage the startup programs in order to reduce the startup time and increase the loading speed.
The conventional way of managing Windows startup programs is to open each individual application and deselect the normally available setting "Run at startup". This could be a tedious job if hundreds of programs are present. Given below is the best way of managing Windows startup programs with CCleaner.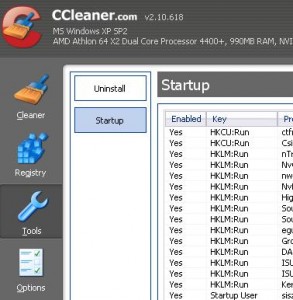 Using CCleaner to Enable/Disable Windows Startup Programs
CCleaner is a wonderful utility to easily enable or disable startup programs as per your requirement.
Download the utility and install it.
On installation, it will create a right-click context menu on the Recycle Bin.
Right click on the Recycle Bin and select Open CCleaner.
Choose the Tools tab in the left side navigation panel. Select Startup option. This tab displays a list of all the available startup programs in your computer.
Select the program that you want to enable/disable and click on the Enable/Disable button.
The next time you start your computer, only the enabled Windows programs will run at startup.