This is a guest post by Naweed Chougle.
For quite some time, I'd been a fan of Sun's OpenOffice suite, after having decided to live life open source!
Though, less powerful than the Microsoft Office series, OpenOffice was decent enough for all my needs. I could open files at will, whether .docx, .doc or otherwise and perform the basic operations that defined the core of Microsoft Office packages.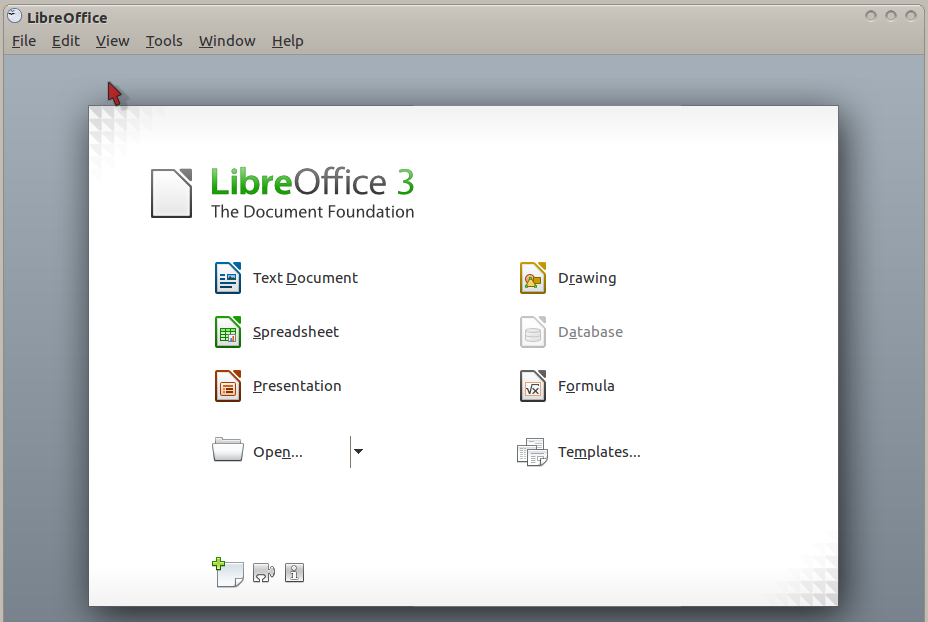 How LibreOffice Came into Being
In early 2010, Oracle's acquisition of Sun sent waves of concern through the open source community. Oracle's commitment to open source was less than dedicated, and we could only keep our fingers crossed when thinking about the future of OpenOffice. And we had reasons to do so – Oracle slammed the brakes on the development of Sun-sponsored OpenSolaris operating system and locked horns with Google for what it believed was copyright infringement in the Java that its open source Android OS used.
The OpenOffice project's non-Sun members carried out the rescue act by forking the project, a process of legally copying an existing software program to carry out independent development and enhancements. They also constituted a new organization that would control it – this is when LibreOffice and The Document Foundation were born.
LibreOffice – For those who Love Simplicity
I recently installed Ubuntu 11.04, also known as Natty Narwhal on my machine after a short stint with Microsoft Windows 7 64-bit. One of the most pleasing things that comes with Linux flavors like Natty Narwhal is the pre-bundled LibreOffice suite. To me, it felt like an inseparable part of the operating system, unlike the bulky Microsoft Office 2010 that takes several tens of minutes to install, depending on the number of modules you choose.
Even if you choose to install the LibreOffice suite in Windows, the process is quick, given the fine tuning done to the code. The fast load time too beats that of Microsoft Office.
And let's not forget, one of the key issues with MS Office is the price tag! If you plan to cut down on the expenses that run your computer's software, LibreOffice is definitely the right way forward.
Decent Features
The LibreOffice 3.3 that runs on my machine is apparently quite similar to the Oracle sponsored OpenOffice equivalent, but does come with some extra features that TDF has painstakingly added to it. The key extra features include the ability to import Microsoft Works documents and saving files in Microsoft Office 2007 and 2010's XML document format. The equivalent OpenOffice version cannot do anything beyond reading such documents.
The controls in LibreOffice 3.3 applications are visibly more attractive than those in their OpenOffice equivalents. The export to PDF option, a fairly important feature, is a breeze in LibreOffice.
However, LibreOffice 3.3 is no match to the level of sophistication of Microsoft Office's features. While the latter requires a greater memory footprint and can cause problems if run with several other programs, it allows for greater user-friendliness and power. In Microsoft Office's packages, you can preview different font sizes and styles by simply hovering your mouse on the options and change them in an instant.
What is most notably missing in LibreOffice is the friendly Help Assistant you find in Microsoft Office, that you can float around the screen as you work.
And consider how LibreOffice Impress compares with Microsoft Office PowerPoint. PowerPoint is clearly way ahead when it comes to developing glitzy slides with stunning animations to accompany them.
LibreOffice – Definitely Worth a Try
While Microsoft Office is definitely the reigning giant, LibreOffice is not something that can be ignored. With an increasing number of applications going the web way, desktop office suites are going to continue their path of innovation with the aim of harnessing the ever-improving hardware on which they are run.
All in all, LibreOffice is definitely worth a try for people ready to settle for simplicity in their tools and publishing projects. And more importantly, it's for those who believe open source is cool!
Naweed Chougle is an independent web developer and blogger. He is one of the chief bloggers at TechNonStop, where you can find analysis and insight, among various other subjects.